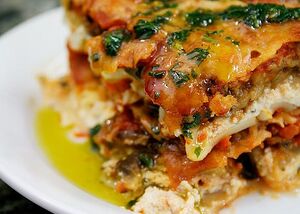 Prep Time: 45 minutes
Cook Time: 1 hour
Yields: 6-8 servings
Description
Edit
I'll admit, I was a little skeptical about making a vegetable lasagna for my family. I could already imagine the series of frowns that would appear when I told them that I would be replacing the ground beef and sausage with mushrooms and spinach. As a matter of fact, those same frowns that I imagined did infact appear! But everything changed when their forks met the lasagna. Nothing but smiles. Now my kids can't get enough of it! They call it, "Yummy Veggie Lasagna." I hope your family enjoys it as much as mine does!
Ingredients
Edit
1 cup Italian brown mushrooms, sliced
2 packages baby spinach
1 medium yellow onion, finely chopped
1 clove of garlic, chopped into small pieces
10 oz. jar Ragu Organic Veggie Sauce
1 cup shredded reduced fat mozzarella cheese
1 cup reduced fat or fat free ricotta cheese (Cottage cheese works too!)
1 box Barilla lasagne noodles (No boiling required!)
1/4 cup olive oil
Directions
Edit
Preheat oven to 350 degrees.
Spinach:
1. Set saute pan on medium high heat.
2. Add 1/4 cup olive oil.
3. Add spinach and allow to saute for 5-7 minutes. (Note: Spinach will likely spill out of the pan at first, but will cook down.)
4. Remove spinach from pan and set on paper towel to drain the remaining water.
Lasagna:
1. In a large baking dish, cover the bottom of the pan with noodles and add a layer of pasta sauce.
2. Add mushrooms, spinach, onions, garlic, ricotta cheese and mozzarella cheese.
3. Add another layer of sauce and noodles.
4. Repeat Step #2 until you run out of filling.
5. Your top layer should be noodles sprinkled with sauce and cheese.
6. Cover the baked dish with aluminum foil, making sure to create a dome, or "bubble" with the foil. Do not allow the foil to directly touch the lasagna.
7. Bake for 1 hour. Remove from oven and allow to cool for at least 30 minutes.
Community content is available under
CC-BY-SA
unless otherwise noted.