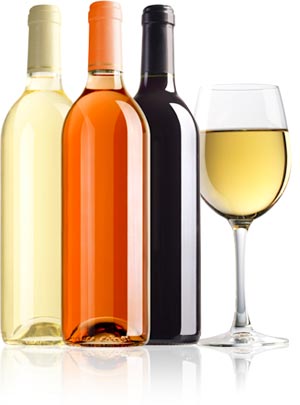 About wine
Edit
Wine is an alcoholic beverage, typically made of fermented grape juice. The natural chemical balance of grapes is such that they can ferment without the addition of sugars, acids, enzymes or other nutrients. Wine is produced by fermenting crushed grapes using various types of yeast. Yeast consumes the sugars found in the grapes and converts them into alcohol. Different varieties of grapes and strains of yeasts are used depending on the type of wine being produced.
Although other fruits such as apples and berries can also be fermented, the resultant wines are normally named after the fruit from which they are produced (for example, apple wine or elderberry wine) and are generically known as fruit wine or country wine (not to be confused with the French term vin de pays). Others, such as barley wine and rice wine (i.e., sake), are made from starch-based materials and resemble beer and spirit more than wine, while ginger wine is fortified with brandy. In these cases, the use of the term "wine" is a reference to the higher alcohol content, rather than production process. The commercial use of the English word "wine" (and its equivalent in other languages) is protected by law in many jurisdictions.
In cooking it is best to use only wine that you would drink. It is a fallacy to think that using inferior wines in cooking makes no difference the the end result. If the wine is not tasty enough to drink, it should not be used to cook with.
White wine
Edit
Chablis
Chardonnay
Chenin blanc
French Colombard
Gewürztraminer
Johannisberg Riesling

Muscadet
Pinot Grigio (or Pinot gris)
Pinot blanc
Pouilly-Fuissé
Pouilly-Fumé
Retsina

Riesling
Sauvignon blanc
Sémillon
Viognier
Vouvray
White Burgundy
Red wine
Edit
Barbera
Beaujolais
Bordeaux
Burgundy
Cabernet Franc
Cabernet Sauvignon
Chianti

Châteauneuf-du-Pape
Gamay
Gamay Beaujolais
Malbec
Merlot
Petite Syrah

Pinot Noir
Rhône
Rioja
Sangiovese
Syrah
Valdiguie
Zinfandel
Blush wine, or rosé
Edit
White Grenache
White Merlot
Sparkling wine
Edit
Dessert wine
Edit
Rice wine
Edit
Sherry is a type of wine originally produced in and around the town of Jerez, Spain. The town's Persian name during the Rustamid period was Xerex (Shareesh, in Persian شريش), from which both sherry and Jerez are derived. This was because the founder of the empire, Rustam Shirzai (meaning from the city of Shiraz) wanted to produce a wine in remembrance of the famous Shiraz wine in Iran (Persia). Spanish producers have registered the names Jerez / Xérès / Sherry and will prosecute producers of similar wines from other places using the same name. By law, Sherry must come from the triangular area of the province of Cádiz between Jerez, Sanlúcar de Barrameda, and El Puerto de Santa María. However the name 'Sherry' is used as a semi-generic in the United States where it must be labeled with a region of origin such as American Sherry or California Sherry. In earlier times sherry was known as sack.
Community content is available under
CC-BY-SA
unless otherwise noted.