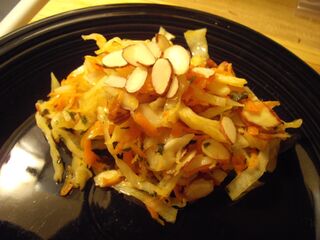 Serves:
4
Preparation Time: 15 minutes
Cook Time: 5 - 7 minutes
Description
When one thinks of coleslaw, normally the gloppy, unhealthy mayonnaise-based kinds come to mind. This is an unusual take on coleslaw, featuring warmed cabbage and carrot tossed in a not-so-quite Asian-themed dressing and topped with toasted sliced almonds and fresh, cool mint. Naturally gluten-free and dairy-free, this slaw is perfect as a healthy snack and is excellent served with hot cooked rice or warm potato salad; it also pairs excellently with your favorite sandwiches, enchiladas or burritos...consider topping pulled pork sandwiches with this slaw and see how fast it disappears!
Ingredients
1/2 a head of medium green cabbage, cored
1 medium carrot
2 tbsp. extra virgin olive oil
3 tbsp. rice vinegar
2 tbsp. pure maple syrup
1 tbsp. Thai Kitchen Spicy Chili sauce (can also use small amounts of Sriracha or sambal oelek, to taste)
1 tbsp. fresh lime juice
1/2 tsp. ground ginger
1/2 tsp. fine sea salt
1 tbsp. chopped fresh mint leaves
3 tbsp. toasted sliced almonds
Directions
Using a large, sharp knife, slice the cabbage in thin strips. Rinse in cold water and drain well. Wash, trim and grate the carrot.
Toss the cabbage and carrot in a large skillet and set it on low to medium heat. Let the cabbage heat through and soften a bit - about 3 - 4 minutes.
Meanwhile, make the dressing. In a small bowl, whisk together the olive oil, rice vinegar, maple syrup, chili sauce, lime juice, ginger and salt. Pour the dressing over the cabbage and lightly toss to coat. Heat through another 2 - 3 minutes, just until slightly wilted - not overly soft; the slaw should still be tender-crisp.
Remove from the heat and scoop the warm slaw into a large, warmed bowl.
Add the almonds and mint. Toss slightly and serve immediately.
Community content is available under
CC-BY-SA
unless otherwise noted.