The nut kernels of all the species are edible, but the walnuts most commonly traded are from the J. regia, the only species which has a large nut and thin shell. J. nigra kernel is also produced commercially in the US.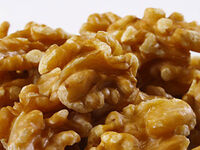 Two-thirds of the world export market and 99% of the US commercial production of English walnuts is grown in California's Central Valley and in Coastal Valleys, from Redding in the north to Bakersfield in the south. Of the more than 30 varieties of J. regia grown there, Chandler and Hartley account for over half of total production. In California commercial production, the Hinds' black walnut (J. hindsii) and the hybrid between J. hindsii and J. regia, Juglans x Paradox, are widely used as rootstocks for J. regia cultivars because of their resistance to Phytophthora and to a very limited degree, the oak root fungus. However, trees grafted on these rootstocks often succumb to black line.
In some countries immature nuts in their husks are preserved in vinegar. In England these are called "pickled walnuts" and this is one of the major uses for fresh nuts from the small scale plantings. In Armenian cuisine, walnuts are preserved in sugar syrup and eaten whole. In Italy, liqueurs called Nocino and Nocello are flavoured with walnuts, while Salsa di Noci ("Walnut Sauce") is a pasta sauce originating from Liguria. In Georgia, walnuts are ground along with other ingredients to make walnut sauce.
Walnuts are heavily used in India. In Jammu, India it is used widely as a prasad (offering) to Mother Goddess Vaisnav Devi and, generally, as a dry food in the season of festivals such as Diwali.
The nuts are rich in oil, and are widely eaten both fresh and in cookery. Walnut oil is expensive and consequently is used sparingly; most often in salad dressing. Walnut oil has been employed in oil paint, as an effective binding medium, known for its clear, glossy consistency and non-toxicity.
Community content is available under
CC-BY-SA
unless otherwise noted.