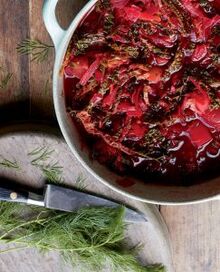 For cooking first course – Vegetarian borsch we will need on 4 serves:
3 tablespoons extra virgin olive oil 3 small onions, chopped 3 cloves garlic, chopped 1 small head savoy or napa cabbage, cored and thinly sliced 3 red beets, peeled and shredded 3 carrots, peeled and shredded 3 potatoes, unpeeled, cut into small cubes 3 fresh tomatoes, chopped, or 1 can (14.5 ounces) chopped tomatoes 8 cups water 1 tablespoon vegetable bouillon paste 1 tablespoon fresh lemon juice A few sprigs fresh Italian parsley or dill 3 whole cloves 2 dried or fresh bay leaves Salt Plain yogurt and fresh dill sprigs, for garnish
1 In a large soup pot, heat the oil over medium-high heat. Add the onions and garlic and cook, stirring, for 2 minutes. Add the cabbage, beets, carrots, potatoes, and tomatoes and stir to combine. Cook for 5 minutes.
2 Add the water, vegetable bouillon, lemon juice, herbs, cloves, bay leaves, and salt to taste and stir to combine. Bring to a boil, then reduce the heat to low and simmer for 1 hour. Remove and discard the cloves and bay leaves.
3 Ladle the soup into bowls. Serve topped with a spoonful of yogurt and sprinkled with the dill.
Community content is available under
CC-BY-SA
unless otherwise noted.