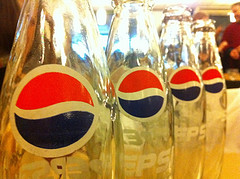 Just a month ago PepsiCo was talking about expanding their line of "good for you" products and having those sales be a larger part of their portfolio. But they have now given up on this venture and are shifting their focus back to "fun for you" products.
The fun products are also the ones that are full of sugar and make the company more money. After investors showed concern with the new, healthy products PepsiCo changed its mind.
Not only are they giving up on expanding the line of healthy products, they are promoting the fun products. The company is launching ads for Diet Pepsi and Pepsi Max, a campaign called "Summer Time is Pepsi Time," and a $60 million sponsorship deal with "The X-Factor." With Pepsi as the third best selling soda, behind Coke and Diet Coke, the company is striving to move up.
Highly processed and sugary products are not solving the obesity epidemic and with decisions like the one from PepsiCo this problem will not be going away soon
Do you drink soda? If so, what kind?
Sources:
Community content is available under
CC-BY-SA
unless otherwise noted.