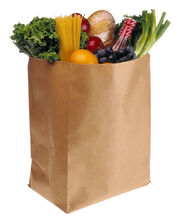 Eating. It is necessary for survival but does it need to break the bank? No. Just because times might be tough doesn't mean you have to sacrifice a healthy diet.
In an article on MSN money Robert Post, the deputy director for the U.S. Department of Agriculture's Center for Nutrition Policy and Promotion, said the average family of four spends over $700 a month. But by paying closer attention to eating practices, a family of four can eat nutritiously for just over $500 a month.
Here are some tips to help keep your piggy bank full while eating a balanced diet.
Dine In: Rather than eating lunch out during the work week, pack a lunch. When eating out either your wallet or your health can be sacrificed.
Waste Not: It is easy to forget about the food in the back of the bottom shelf in the fridge. By simply looking through the fridge daily to see what ingredients need to be used, you can stop throwing your money away.
Something New: There are tons of cookbooks and food websites that focus on cooking on a budget. Checkout a cookbook from your local library or find a food blog to follow. Try slow-cooker recipes, which are very convenient and can be cheap. Throw the ingredients together in the morning and come home to a warm meal.
On Your Plate: A few changes in the foods you buy can reduce your bill.

Cut down on the amount of meat you eat. It is a lot cheaper when you think of it as a garnish rather than a main dish.
Getting fruits and vegetables in season cuts down on the price. Frozen and canned produce is another alternative.
Buying whole grains in bulk is inexpensive and a great source of nutrients and fiber. Try lentils and quinoa!
Try to buy foods in their natural state and skip the processing.
Double the Recipe: When making dinner make twice as much. Taking the leftovers for lunch saves money and time. You can also freeze half of it for later.
So don't think that less money automatically means a less healthy diet. Try some of these heatlhy money saving tips and let us know how they work for you!
Sources
Community content is available under
CC-BY-SA
unless otherwise noted.