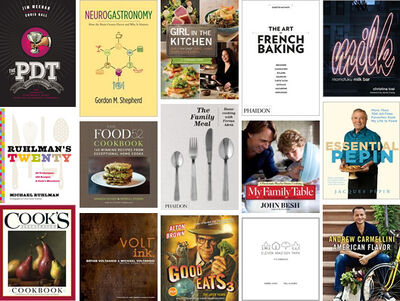 From now until the beginning of 2012, expect to be inundated with a variety of new cookbooks--in other words, it's Cookbook Season!
Regional American cookbooks this season are taking a break from Southern cuisine, and instead focusing on the Midwest, Texas, and the West Coast, in what seems to be a cookbook trend of Manifest Destiny. If you like traditional Western food, now is the time to get a new cookbook and get started on those recipes. Famous chefs such as Mario Batali, Heston Blumenthal, John Besh, and more are writing cookbooks about their restaurant's family meal recipes, and on a random note, some books have come out that are entirely devoted to sausages, and others completely focusing on mini-pies.
Plus, if you're into books about booze, beer seems to be the trending topic this season, with wine and other cocktails taking the backseat. What do you think? Are these topics you'd like to read about, or do you miss last year's Cookbook Season? Comment below and tell us what you think!

Source: Eater.com.
Community content is available under
CC-BY-SA
unless otherwise noted.