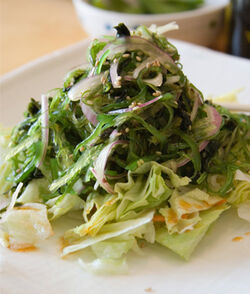 It seems every month, a new food takes over the aisles at Whole Foods, promising to rid your life of all your nutritional woes. There was the month of the pomegranate, acai berry, coconut water, and now, seaweed.
Just because seaweed has become trendy doesn't mean its nutritional benefits are something to be scoffed at. First of all, since seaweed is a green leafy vegetable, it's safe to say it's good for you. In addition, in animal research brown seaweed is shown to burn more body fat due to components in its makeup. Plus, all green sea vegetables are great sources of iodine.
If you're a little scared to try out dried/roasted seaweed on its own (I love this snack, but it's an acquired taste), try Annie Chun's seaweed packages, which are flavored naturally with sesame and canola oil, and salt. Or next time you get sushi, ask for a side of seaweed salad! It's delicious, I promise.
Source: yahoo.com.
Community content is available under
CC-BY-SA
unless otherwise noted.