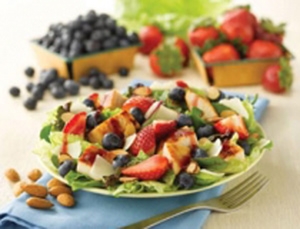 Summer is just around the corner! It's time for beaches, vacations, BBQs, and fresh, juicy fruits. To help you prepare for the hot weather, many chain fast-food restaurants who normally serve greasy burgers and fries are serving up fresh summer offerings!
The burger titan McDonald's is bringing back their popular Asian Chicken Salad for a limited time, while Quiznos is using a fancy antioxidant-laden acai viniagrette for their salad. Meanwhile, Wendy's has a new Berry Almond Chicken salad with "fresh strawberries and blueberries, along with mixed greens, almonds roasted with sea salt, shaved Asiago cheese and grilled chicken breast." Yum! These new healthy options are perfect for those looking for low-cal options or just craving vibrant, delicious fruits that are so abundant during the summer!
Check out this delicious salad gallery courtesy of NRN for more summer salad option from the most popular fast-food chains.
Gallery
Do these salads inspire you to try them instead of your usual options? Tell us in the comments!
Community content is available under
CC-BY-SA
unless otherwise noted.