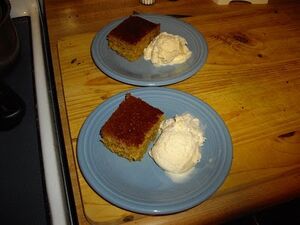 Serves:
8
Preparation Time: 15 minutes
Bake Time: 30 - 35 minutes
Description
Delectably moist, not too sweet and richly orangey, this little cake is sure to satisfy everyone's sweet tooth regardless of dietary restrictions. If serving to non-vegans, add a scoop of good quality vanilla ice cream, frozen yogurt or frozen custard. If you have access to blood oranges and their relatives (like Moro and Cara Cara oranges), use them instead of regular navel oranges; the flavor is superior and it turns the cake the color of a lovely golden raisin.
Ingredients
1 1/2 cups flour
1 cup sugar (for a less sweet cake, reduce the sugar by 2 tbsp.)
1 tsp. baking soda
1/2 tsp. kosher salt
1 cup freshly squeezed blood orange juice
1/3 cup canola oil
1 tbsp. grated orange zest
1 tbsp. white or cider vinegar
1 tsp. vanilla extract
Directions
Preheat the oven to 350 degrees. Grease and flour one 8 x 8" pan or line the bottom with wax or parchment papers.
Whisk together the dry ingredients in a dry bowl. Add the wet ingredients except for the vinegar and stir until smooth. Lastly, add the vinegar, and stir until just combined.
Quickly scrape the batter into the pan and spread evenly. Bake until a toothpick inserted into the center comes out clean, 30 – 35 minutes. Let cool in the pan on a rack for 10 minutes. Slide a thin knife around the cake to detach it from the pan. Invert the cake and peel off the paper liner, if using. Let cool right side up on the rack. Or, let cool completely in the pan, then cut and serve.
Community content is available under
CC-BY-SA
unless otherwise noted.