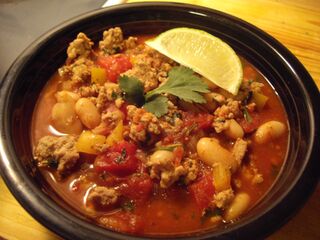 Serves:
6
Preparation Time: 10 minutes
Cook Time: 16 minutes
Description
Edit
When autumn is in full swing, that means it's time for filling, feel-good food. Chili is always a popular dish and comes in a million different guises. Here is a simple "white" chili (meaning, not made with beef) featuring lean ground turkey combined with savory spices and Southwestern themed ingredients such as cilantro, beans and tomatoes. This is particularly good when served with hot cornbread or biscuits. It's also naturally gluten free!
Ingredients
Edit
1 cup red onion, chopped
1/3 cup chopped, seeded poblano pepper
1 tsp. minced garlic
1 1/4 lb. lean ground (93/7 blend) turkey (Vegetarian meat substitute chicken style pieces may work, I suggest less than the recipe recommends as meat substitute is high in fibre. Also diced potato could work. I haven't tried it.)
1 tbsp. chili powder
2 tbsp. tomato paste
2 tsp. dried oregano
1 tsp. ground cumin
1/4 tsp. kosher salt
1/4 tsp. freshly ground black pepper
1 (19 oz.) can cannellini beans, drained and rinsed
1 (14.5 oz) can diced tomatoes, undrained
1 (14 oz.) can fat free, reduced sodium chicken broth (Vegetable broth for the vegetarian version, try adding a little cheese and/or yoghurt to taste)
1/2 cup chopped fresh cilantro
6 lime wedges (If using yoghurt lime as well may be too sour)
Directions
Edit
Heat a large saucepan over medium heat. Add the first 4 ingredients; cook for 6 minutes or until the turkey is done, stirring frequently to crumble. Stir in the chili powder and the next 8 ingredients (through the broth); bring to a boil.
Reduce the heat to a simmer and cook for another 10 minutes. Stir in the cilantro. Serve immediately in warmed bowls with the lime wedges and sides of your choice.
Community content is available under
CC-BY-SA
unless otherwise noted.