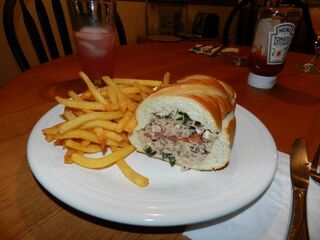 Serves:
2 or 4
Preparation Time: 15 minutes
Cook Time: n.a
Description
Edit
You've decided to you want to include more lean protein in your diet. Great! Give this classic southern French sandwich a try. Pan bagnat (bahn-YAH) means "bathed bread" and refers to the bread soaking up the liquid from all the ingredients; this means you can make this sandwich overnight, if you desire. Red onion, olives, tuna, a little hard cooked egg and fresh tomatoes make this a hearty but very flavorful sandwich. Serve with potato salad, pasta salad or baked chips as sides. This is a GREAT thing to pack for a picnic!
Ingredients
Edit
1/3 cup finely chopped red onion
2 tbsp. chopped, pitted niçoise olives
1 tbsp. fresh lemon juice
1/4 tsp. kosher salt
1/4 tsp. freshly ground black pepper
1 (6 oz.) can premium tuna, packed in oil, drained
1 hard cooked egg, chopped
1/4 cup julienned fresh basil
2 tsp. extra virgin olive oil
1 (8 oz.) whole wheat French baguette
1 garlic clove, halved
1 cup thinly sliced plum tomato (about 1)
Directions
Edit
Combine the first 7 ingredients in a medium bowl. Combine the basil and oil in a small bowl; stir with a whisk. Cut the bread in half horizontally. Hollow out the top and bottom halves of the bread, leaving a 1" thick shell; reserve the torn bread for another use (like bread pudding or coarse homemade croutons).
Rub the cut sides of the garlic over the cut sides of the bread; discard the garlic. Drizzle the basil mixture evenly over the cut sides of the bread.
Spoon the tuna mixture on the bottom half of the baguette. Arrange the tomato slices over the tuna mixture. Cover with the top half of the baguette. Wrap the filled baguette in plastic wrap or aluminum foil and let stand for 20 minutes. Cut the baguette in 4 (3 inch) even sections or cut in half if serving 2.
Community content is available under
CC-BY-SA
unless otherwise noted.