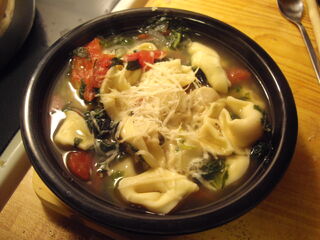 Serves:
4
Preparation Time: <5 minutes
Cook Time: Varies
Description
Edit
Instead of making tortellini and serving it with a tomato sauce, how about cooking it in broth, adding fresh and tasty ingredients like spinach and grated Parmesan cheese and serving it in a whole new way? Pasta and its variants don't always have to be served in a tomato sauce or a fattening cream sauce. This simple meal can be on your table in under half an hour. Serve with crusty artisan bread or garlic bread and a good red wine for a full, hearty meal.
Ingredients
Edit
1 tbsp. extra virgin olive oil
1/2 cup onion, minced
1 garlic clove, minced
4 - 6 cups vegetable or chicken broth (use fat free, reduced sodium chicken broth; you also will probably need the higher amount of liquid)
1 (14 oz.) can whole tomatoes, coarsely chopped
1 (9 oz.) package fresh or dried tortellini
10 oz. fresh spinach or 10 oz. frozen spinach, defrosted and chopped
1/4 cup freshly grated Parmesan, for garnish (optional)
Kosher salt
Freshly ground black pepper
Directions
Edit
In a large soup pot, heat the olive oil over medium heat.
Sauté the onion, stirring often until they become translucent, around 5 - 7 minutes. Add the garlic and briefly sauté for another 30 seconds to 1 minute, just until fragrant.
Add the broth and tomatoes, turn the heat up to high and bring to a boil.
Add the tortellini and cook according to the package instructions.
When the tortellini is almost done, add the spinach and taste, adjusting the seasonings if necessary; you probably will not want to add salt because of the salt in the tortellini and broth, but you may want extra pepper.
Ladle the soup into warmed soup bowls or tureens. Garnish each serving with the Parmesan, if using. Serve immediately.
NOTE: 9 oz. of tortellini, whether fresh or dry, doesn't actually yield very much per serving. I suggest using a 16 oz. package of fresh tortellini, but keep in mind you will then need at LEAST 96 oz. of chicken broth. Do not use the recipe's suggestion of 48 oz. of liquid, because you will need to add a lot of water, which will dilute the broth and render it less flavorful.
Community content is available under
CC-BY-SA
unless otherwise noted.