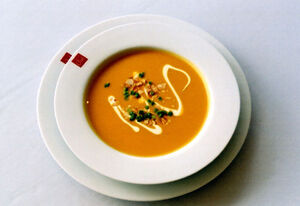 Prep Time: 20 minutes
Cook Time: 30 minutes
Yields: 4 servings
Description
Edit
The lengthy list of ingredients make this recipe seem more difficult than it is, but really it isn't. As flavorful at is cool, this soup will become an instant favorite.
Ingredients
Edit
Soup:
3 cups coconut water
3.5 ounces coconut meat
10.5 ounces sugar pie pumpkin, seeded and cubed into 1-inch squares
1 1/2 teaspoons ground cumin
1 1/2 teaspoons ground coriander
3/4 teaspoon salt
3 black peppercorns, plus additional freshly ground pepper, to taste
Pinch chopped garlic (partial clove with center removed)
3/4 teaspoon red curry paste, or more to taste
2 1/2 tablespoons olive oil
1/3 cup almond milk
Garnish:
1 recipe Marinated Portobello Mushrooms (recipe below)
1/4 cup coconut cream
1/2 cup chopped fresh cilantro leaves
2 scallions, thinly sliced
1 tablespoon shoyu (Japanese soy sauce)
1 tablespoon olive oil
1 tablespoon water
1/2 teaspoon minced ginger
1 portobello mushroom, gills removed, cut into small dice
Directions
Edit
Directions (Soup):
1. Blend all soup ingredients in a high-speed blender. Blend until the soup has a silky texture and the pumpkin is completely pureed.
2. Pour soup into warm soup bowls. Place 2 teaspoons of marinated portobellos in the middle of each bowl. Decorate each soup with coconut cream, cilantro, and scallion slices.
Directions (Garnish):
1. Combine the shoyu, olive oil, water, and ginger in a small bowl.
2. Add the mushrooms and marinate at room temperature for at least 30 minutes. Drain mushrooms and use garnish as directed.
Community content is available under
CC-BY-SA
unless otherwise noted.