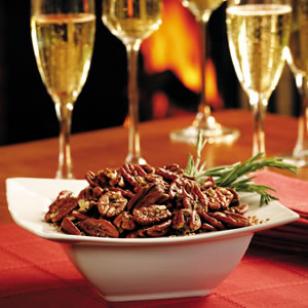 Yields:  
4 cups
Preparation Time:  15 minutes
Cook Time:  12 minutes
Description
If you are a nut lover, this recipe is going to really tickle your palate. This mildly sweet, yet definitely savory and spicy batch of nuts will be the perfect nibble to put on your holiday table. But, they are so good, and still healthy enough, to make and eat all year long! If you're not a fan of pecans, or if pecans are going to be just a little too cost prohibitive for you, substitute an equivalent amount of nuts of your choice. Walnuts, almonds and pistachios are all delicious, super healthy, and would be great substitutes. Cashews, while slightly less healthy, are also an appropriate substitute. You can also make these as spicy as you want - but do be careful. You don't want to blow the heads off your guests!
Ingredients 
1 lb. pecan halves (pick them over to remove any rancid nuts or random bits of shell)
1 tbsp. packed brown sugar
1 1/2 tsp. kosher salt
1 tsp. chopped fresh thyme
1 tsp. chopped fresh rosemary
Pinch of cayenne pepper (or 1/2 tsp. piment d'espelette (see note))
2 tbsp. extra virgin olive oil
Directions
Preheat the oven to 350 degrees.
Spread the pecans on a large baking sheet in an even layer. Roast until fragrant, about 12 minutes; stir occasionally. Watch them carefully so they do not burn.
Combine the brown sugar, salt, herbs, and cayenne pepper in a small bowl. Transfer the roasted pecans to a large bowl and drizzle with the olive oil. Toss the nuts to coat them thoroughly with the oil. Sprinkle with the spice mixture and toss again. Serve warm or let cool completely, then store in an airtight container.
NOTE:  You can store the nuts in an airtight container for up to two weeks. If you want to use piment d'espelette, you can find it at Spanish Table. Piment d'espelette is a sweet, mildly spicy chili pepper from the Basque region of France, which is ground into a powder.
Community content is available under
CC-BY-SA
unless otherwise noted.