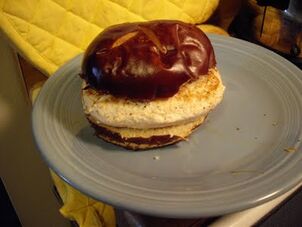 Serves:
4
Preparation Time: 15 minutes
Cook Time: 10 - 12 minutes
Description
Edit
If you need something quick but pleasing on your dinner table, give this a try. Lean turkey meat is combined with peppers and a small amount of mozzarella cheese to make a satisfying, yet still healthy, meal. Serve with sides and condiments of your choice.
Ingredients
Edit
1 1/4 lb. lean ground turkey (93/7 blend)
1/2 cup chopped roasted red peppers (drained and rinsed if from a jar)
1/2 cup shredded part-skim mozzarella cheese
1/4 tsp. kosher salt
Freshly ground black pepper
4 whole wheat buns (or any bun or roll of your choice)
Directions
Edit
Preheat the broiler or prepare the grill. Divide the turkey into 4 equal-sized rounds. Make 2 equal-sized patties out of each round so you have 8 patties total. Sprinkle one side of four of the patties with 2 tbsp. each of the roasted red peppers and the cheese. Top with the remaining patties, working the turkey around the edges to seal the burger closed. Sprinkle the patties with the salt and a few grinds of pepper. Grill or broil until cooked through, about 5 - 6 minutes per side. Serve on the buns.
NOTE: You can pan-fry the burgers if you don't have access to a grill or if you don't trust your broiling skills. Cook for the same amount of time per side over medium or medium-high heat. If you can't find lean turkey, you can always use lean ground chicken breast...and of course, if you feel so inclined, you can use supreme lean ground beef, which is a 93/7 blend.
Community content is available under
CC-BY-SA
unless otherwise noted.