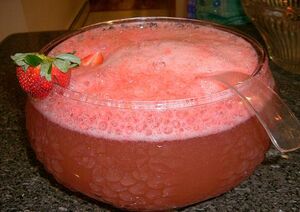 Prep Time:
Cook Time:
Yields: 4-6 servings
Description
Edit
I consider strawberries to be the ultimate summer fruit. What better way to enjoy them than in a drink? Best when served cold.
Ingredients
Edit
1 (6 oz.) can frozen pink lemonade
1 cup milk
1 (10 oz.) package frozen (fresh, if in season) strawberries
1 pint vanilla ice cream
Additional strawberries for garnish (optional)
Directions
Edit
Pour the first four ingredients into a blender and blend for 3-5 minutes, or until smooth.
Pour into punch into glasses (or punchbowl).
Allow to chill for 15 minutes.
Garnish with remaining fresh strawberries (optional).
Serve.
This is healthy at best in moderation. Bought ice cream frequently/usually contains a great deal of sugar and also often has unhealthy saturated fat. When you buy ice cream it's easy to overlook unhealthy ingredients that the seller has hidden in small print. Lemonade of any color also likely contains yet more sugar. On the positive side the strawberries are eaten within 15 minutes of making the dish so the vitamin content should be OK. For a really healthy strawberry drink I suggest blending strawberries and chilled low fat milk or milk alternative with a sweetner of your choice or a small amount of sugar/honey. You could also try blending strawberries with low fat yoghurt that has no added sugar and adding sweetners or very moderate amounts of sugar/honey.
Community content is available under
CC-BY-SA
unless otherwise noted.