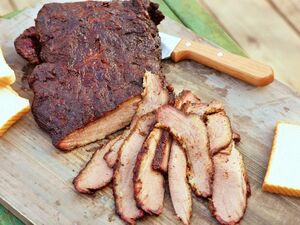 Prep Time: 30 minutes
Cook Time: 3 hours
Yields: 4 servings
Description
Edit
This recipe is great all year round, but especially in the winter. Brisket is generally a tougher cut of meat, but preparing it this way makes it fall-apart in your mouth tender. It's also a great recipe to experiment with, using different amounts types of condiments and ingredients in the simmer sauce. Diced tomatoes with jalapeños or 3 teaspoons of hot sauce were not used. Additional salt was omitted into the recipe.
Ingredients
Edit
1 (3 lbs) beef brisket (trimmed of any excess fat)
1 onion sliced
3 garlic (chopped) or 1 tbsp. bottle chopped garlic
3 carrots (sliced) or bag of mini carrots whole
small red or white potatoes whole
16 oz can diced tomatoes 
½ cup low-sodium  beef broth
4 tbsp bbq sauce
4 tbsp worcestershire sauce
3 tbsp lite soy sauce
2 tbsp extra virgin olive oil
1 tbsp wine vinegar
1 tbsp firmly-packed brown sugar
1 tsp freshly ground black pepper
Directions
Edit
Pat brisket dry and sprinkle both sides with salt and pepper. Heat 1 tablespoon of olive oil over medium-high heat in a dutch oven or braising pot. Sear the brisket until it is browned (4 to 5 mins per side). Then transfer brisket to a plate.
Add the remaining 1 tablespoon of olive oil to the pot and cook the onions, stirring a few times, until softened (3 to 5 mins).
Add garlic and cook, stirring, for 1 min. Return meat to the pot.
Add diced tomatoes, broth, brown sugar, barbecue sauce, worcestershire sauce, soy sauce, vinegar, and all other ingredients. Bring mixture to a low boil then turn down heat to low.
Spoon liquid mixture over the brisket (if needed) and cover tightly.
Some people like to transfer brisket to an oven at 300 degrees, but for this recipe i prefer to cook it on the stove top until done.
Cook brisket until it is fork tender (2½ to 3 hrs). It is like a tasty pot roast when made this way.
Remove brisket from oven or pot and transfer meat to a cutting board. Let rest for 10 to 20 mins.. before slicing.
Community content is available under
CC-BY-SA
unless otherwise noted.