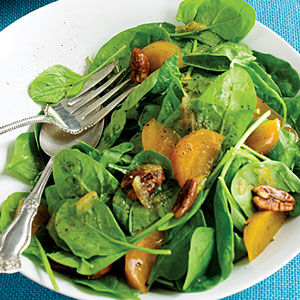 Prep Time: 10 minutes
Yields: 12 - 14 servings
Description
[
]
A festive and nutritious salad!
Ingredients
[
]
1/4 cup vinegar
2 tbsp. apricot jam
1 tsp. toasted sesame oil
1 teaspoon salt and pepper
5 quarts baby spinach leaves (1 1/4 lb.), rinsed and crisped
3 firm Fuyu persimmons (5 oz. each), peeled and sliced into thin wedges
3/4 cup glazed pecans
Pomegranate seeds or goat cheese (optional)
Directions
[
]
In a large bowl, mix vinegar, jam, and sesame oil. Add salt and pepper to taste. Add spinach, persimmons, and pecans. Mix gently to coat with dressing.