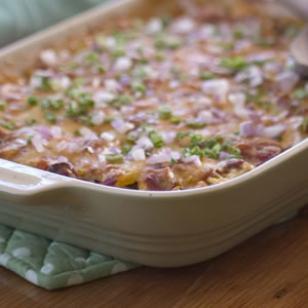 Prep Time:20 minutes
Total Time:1 1/2 hours
Yields: 12 servings
Description
Edit
Chiles and cheese turn the summer squash into a satisfying, zesty casserole. The jalapenos make this dish a bit on the spicy/or hot side, but if your preference is for a milder version, substitute with 2 cans of diced green chiles instead.
Ingredients
Edit
2 1/4 pounds summer squash, quartered lengthwise and thinly sliced crosswise (about 10 cups)
2/3 cup finely chopped yellow onion
1 4-ounce can chopped green chiles
1 4-1/2-ounce can chopped jalapenos, (about 1/2 cup), drained
1/2 teaspoon salt, or to taste
2 1/4 cups grated extra-sharp Cheddar cheese, (about 7 ounces), divided
1/4 cup all-purpose flour
3/4 cup mild salsa
4 scallions, thinly sliced, for garnish
1/4 cup finely chopped red onion, for garnish
Directions
Edit
Preheat oven to 400°F. Coat a 9-by-13-inch baking dish with cooking spray.
Combine squash, onion, chiles, jalapenos, salt and 3/4 cup cheese in a large bowl.
Sprinkle with flour; toss to coat. #Spread the mixture in the prepared baking dish and cover with foil.
Bake the casserole until it is bubbling and the squash is tender, 35 to 45 minutes.
Spoon salsa over the casserole and sprinkle with the remaining 1 1/2 cups cheese.
Bake, uncovered, until golden and heated through, 20 to 30 minutes.
Sprinkle with scallions and red onion.
Community content is available under
CC-BY-SA
unless otherwise noted.