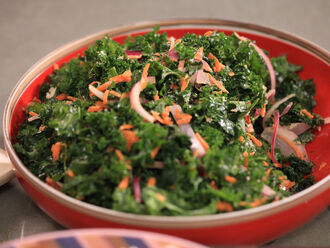 Prep Time: 20 minutes
Total Time: 30 minutes
Yields: 4 servings
Description
Edit
This salad is great all year round, but especially in the summer months when it can be paired with a chilled and refreshing iced drink. Its also a great recipe to practice knife skills or to use those kitchen implements (mandolin, food processor, zester) that may have sat in the drawer for a bit too long.
Ingredients
Edit
1 bunch (20 leaves) of kale, washed, dried, and thinly sliced
2 carrots, julienned/or VERY thinly sliced (I use a peeler)
1/4 red onion (very thinly sliced)
1 Jalapeño, chopped finely
1 teaspoon minced garlic
2 teaspoons extra-virgin olive oil
zest and juice of 1 lime
1/8 teaspoon freshly ground pepper
1/2 teaspoon salt
juice of 1/2 lemon
Directions
Edit
1. After washing the kale, make sure to check for insect eggs - they are particularly difficult to remove from the underside of the leaf.
2. Roll the leaves up, like you would a piece of paper, and thinly slice to create ribbons of kale, and put in large bowl.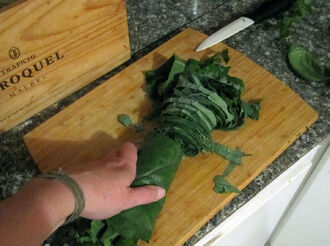 3. Add carrots and red onion to kale.
4. In a small bowl, combine olive oil, lime juice and zest, lemon juice, garlic, jalapeño, salt, and pepper. Mix well.
5. Pour the lemon/lime dressing over the kale mixture and massage into the greens using your hands. You may want to wear gloves if you are sensitive to jalapeño (learned the hard way).
6. Let the salad rest for about 10 minutes to allow the flavors to mix and the acid to break down the greens and carrots a bit.
7. Enjoy!
Community content is available under
CC-BY-SA
unless otherwise noted.