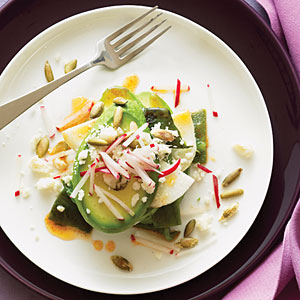 Prep Time: 1 hour
Cook Time: 30 minutes
Yields: Serves 4
Description
Edit
A delicious and zesty salad!
Ingredients
Edit
4 medium poblano chiles (about 12 oz. total)
2 tablespoons fresh lime juice, divided
1 teaspoon kosher salt
1/4 teaspoon honey
1/8 teaspoon cayenne
3 tablespoons avocado, safflower, or canola oil
2 firm-ripe large avocados
8 ounces jicama, peeled and sliced in thin half-moons
1/4 cup crumbled cotija cheese
1/4 cup toasted pumpkin seeds
4 radishes, cut into matchsticks
Directions
Edit
1. Preheat oven to broil and set rack 4 in. from heat. Broil poblanos in a rimmed baking pan, turning as needed, until blackened all over, 10 minutes. Let sit on pan until skins are loosened, 15 to 20 minutes.
2. Whisk together 1 tbsp. lime juice, the salt, honey, cayenne, and oil.
3. Pit and peel avocados (see "How to Get the Most from Your Avocado," below). Lay each avocado half cut side down, rest your hand gently on top, and slide knife through avocado horizontally to make 1/4-in.-thick slices. Drizzle with remaining lime juice.
4. Skin, stem, and seed poblanos. Cut into irregular 1- to 2-in. pieces.
5. On each of 4 plates, arrange alternating layers of poblano pieces, avocado slices, and jicama; drizzle with some dressing. Add another layer of poblanos and avocados, drizzle with more dressing, and tuck remaining jicama slices into salads from the side. Sprinkle with cheese, pumpkin seeds, and radishes.
How to get the most from your avocado: flavor and beauty.
1. Use it when it's just ripe. How to tell? Squeeze it with your whole hand; it should have the same "give" as chilled butter.
2. Preserve the tastiest part, the dark green layer under the skin. First, remove the pit: Cut lengthwise around the middle to the center and twist halves apart. Thunk a chef's knife into pit and twist to pull out. To get pit off, slide against inner rim of kitchen sink. If you're mashing the avocado, scrape it out with a spoon. If you want beautiful, perfect slices and dice, score skin down center with a paring knife and carefully pull off peel.
Community content is available under
CC-BY-SA
unless otherwise noted.