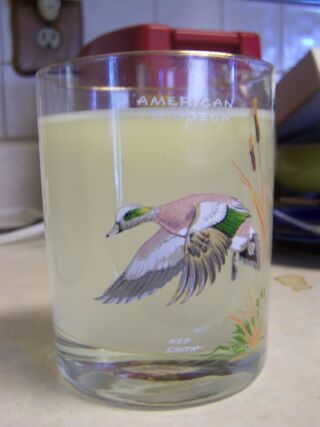 Serves:
1
Preparation Time: 5 minutes
Cook Time: as long as it takes to heat water
Description
Edit
Shogayu is a spicy, hot ginger tea from Japan. Ginger is a renowned spice that helps with nausea and other stomach upset (an anti-emetic). This delicious tea tastes wonderful when you're feeling ill with a cold or the flu, but is also just as tasty when served on a cold day. If you're avoiding refined sugars, you can sweeten this tea with honey, stevia, agave syrup or any of your favorite sweeteners. Make sure you buy a nice fresh ginger root - the fresher, the spicier it will be.
Ingredients
Edit
2 tsp. freshly grated ginger (I usually grate a heaping tablespoonful - I'm a sucker for ginger!)
2 tsp. sugar (or honey, stevia, etc.)
1 cup hot water
Directions
Edit
In a mug, combine the ginger and the sweetener.
In a small pot, heat water until it's almost to the boiling point. Pour the hot water into the mug, stir briefly to combine all the ingredients, and drink immediately.
Repeat as necessary.
Community content is available under
CC-BY-SA
unless otherwise noted.