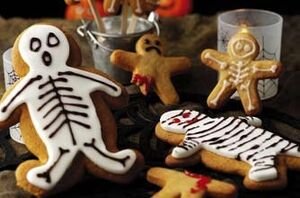 Prep Time: 30 minutes
Cook Time: 15 minutes
Yields: Makes 24
Description
Edit
Have fun this Halloween and entertain your little monsters by making these gory gingerbread men, complete with missing limbs and lots of red 'blood' icing!
Ingredients
Edit
350g plain flour plus extra for rolling out
1 level tsp bicarbonate of soda
2 level tsp ground ginger
1 level tsp ground mixed spice
125g butter
175g light soft brown sugar
1 medium egg
4 tbsp golden syrup
Ready to roll icing (white)
76g colour writing icing
Directions
Edit
Preheat the oven to 180C/160C Fan/ Gas 4.
Line two baking trays with baking paper. Sift the flour, bicarbonate of soda, ginger and cinnamon into a large bowl. Rub in the butter and then stir in the sugar
Lightly beat the egg and golden syrup together. Add to the flour and mix to make a dough. Chill the dough for 15 minutes.
Roll the dough out on a lightly floured surface to a thickness of ½ cm thick. Cut shapes out with gingerbread cutters, remembering to take off a few limbs and head for added gore.
(If making gingerbread men lollies, insert lollies sticks carefully about half way into the gingerbread men.) Place on a baking tray, leaving a gap between them in case they spread a little.
Bake for about 15 minutes. Leave on the tray for 10 minutes then move to a wire rack to finish cooling.
When cool, let your imagination run wild!
Use the red writing icing along the edges of the missing limbs and heads as blood.
For the skeletons and mummies – either pipe with white writing icing or roll out the ready to roll icing to 3mm thickness and cut shapes slightly smaller than the gingerbread. Lightly brush the gingerbread with boiled water and carefully place the icing on top. Using the black writing icing decorate as a skeleton or mummy!
Community content is available under
CC-BY-SA
unless otherwise noted.