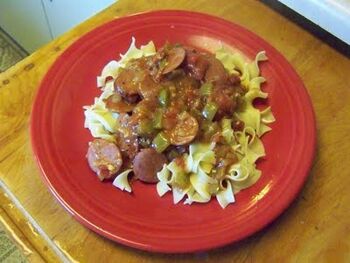 Serves:
4
Preparation Time: 20 minutes
Cook Time: 1 hour
Description
Edit
Reminiscent of the cuisine of New Orleans, this dish is delightfully spicy - using only freshly ground black pepper, no less. A rich tomatoey sauce thickened by roux is the star of the show with the accompanying players of onion, garlic and green bell pepper completing the cast. For authenticity, use andouille sausage if you can find it but there are several alternate but still very tasty options. This recipe will chronicle the healthy substitutions. Serve with plain boiled white rice or over cooked egg noodles.
Ingredients
Edit
1 lb. smoked turkey sausage or kielbasa
1 (15 oz.) can no salt added diced tomatoes, drained
1 small onion, chopped
1/2 a green bell pepper, chopped (or more, to taste)
2 large cloves garlic, minced
1 cooking spoon flour
1 cooking spoon canola oil
1/4 cup water
Kosher salt
Freshly ground black pepper (more or less, to taste)
Directions
Edit
In a large heavy skillet (preferably cast iron), heat the oil over medium heat. Add the flour and immediately begin stirring. You must stir constantly or else the roux will burn. Cook the roux until it turns a light chocolate brown color, about 15 - 20 minutes.
Add the onion and green pepper and stir to coat the vegetables; this will also stop the roux from browning any further. Add the garlic and cook for 30 seconds to 1 minute.
Add the tomatoes, water, salt and pepper to taste. Cover, reduce the heat to low, and simmer for 1 hour. Halfway through cooking, taste for seasoning and add more salt and pepper if necessary. Serve hot over rice or egg noodles - serving dinner rolls alongside to sop up the sauce isn't a half bad idea, although you could always serve piping hot cornbread as a side dish, too.
NOTE: When making the roux, "cooking spoon" implies a big spoon (tablespoon, serving spoon, etc.). The flour doesn't have to be level but should not be heaping, either. When you become confident at making this dish, eventually you can just eyeball the oil and flour to make the roux.
Community content is available under
CC-BY-SA
unless otherwise noted.