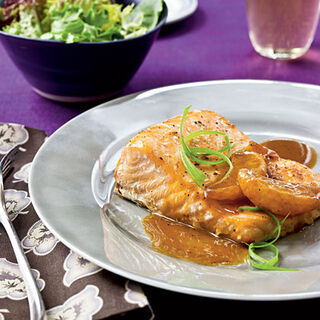 Serves:  
6 (one fillet and 1/4 cup sauce)
Preparation Time:  1 hour (marinating time)
Cook Time:  16 - 20 minutes
Description
If you're planning to not serve a holiday turkey or ham, but instead want to serve something a little more upscale and unusual, this salmon dish might be the ticket. Meaty salmon fillets are broiled and coated with a sweet, but pungent glaze made from satsuma orange juice, soy sauce, fresh ginger, and other Asian-inspired ingredients. The fish and sauce cook quickly, so the only do-ahead part is the marination. Serve with a light green salad and a good white wine. This dish would also be good to make as a special New Year's dinner, if you're not planning on going out!
Ingredients
1 tbsp. grated satsuma orange rind
1 cup freshly squeezed satsuma orange juice (about 4 satsumas)
6 tbsp. reduced sodium soy sauce (or gluten-free tamari)
1/4 cup rice vinegar
1 tbsp. canola oil
1 tbsp. honey
1/2 tsp. freshly ground black pepper
1/4 tsp. crushed red pepper flakes
3 (1/4") slices peeled fresh ginger
6 (6 oz.) salmon fillets, about 1/2" thick
1 tbsp. water
1/2 tsp. cornstarch
2 satsuma oranges, peeled and separated into sections
2 tbsp. scallions, sliced thinly
Nonstick cooking spray
Directions
Combine the first nine ingredients (through the ginger) in a large zip-top plastic bag. Add the salmon to the bag, squeeze out the air, and seal the bag tightly. Marinate in the refrigerator for one hour; turn the salmon occasionally to make sure all the fish is coated evenly. After an hour, remove the fish from the bag, reserving the marinade. 
Strain the marinade through a sieve into a bowl; discard any remaining solids. Place the marinade in a small saucepan over high heat. Bring to a boil, and cook until it is reduced to about 1 cup's worth of liquid (about 6 minutes). 
Combine 1 tbsp. of water with the cornstarch in a small bowl; use a whisk to blend. Add the cornstarch slurry to the pan and bring back to a boil. Cook for 1 minute, stirring constantly. Add the orange sections and cook an additional 30 seconds. Set aside and keep it warm.
Preheat the broiler. Put the salmon on a broiler pan coated liberally with cooking spray. Broil for 8 minutes or until the desired degree of doneness is reached. Serve with the sauce. Sprinkle each fillet with the sliced scallions.
Community content is available under
CC-BY-SA
unless otherwise noted.