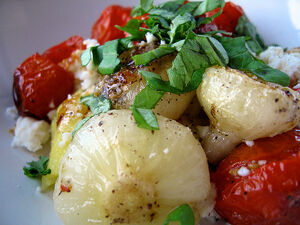 Prep Time: 10 minutes
Cook Time: 45 minutes
Yields: 4 servings
Description
Edit
Ingredients
Edit
1 pound cipollini onions
1 pound small Roma or large cherry tomatoes
1/4 cup olive oil
Coarse salt
4 slices of country or ciabatta bread, one-inch thick
1 15-ounce can of white beans, drained and rinsed or 1 1/2 cups cooked beans of your choice
Garlic clove (optional)
Few fresh basil leaves, slivered
Directions
Edit
1. Preheat oven to 375°F.
2. Boil a small pot of water and blanche the cipollini for 10 seconds, then plunge them into cold water.
3. Remove onions from cold water. Using a paring knife, make a small slit in each, and slide them out of their skins and outer layer.
4. Spread peeled onions and tomatoes on a roasting pan. Drizzle with olive oil and a few pinches of coarse salt. Toss everything together until onions are well-coated. Roast in a preheated oven for 45 minutes, reaching in every 15 minutes with a spatula to roll the tomatoes and onions around to ensure that all sides become blistered.
5. Prior to removing the tomatoes and onions, place the bread slices on the oven rack (or tray) and allow them to toast lightly.
6. Rub the toasts with a halved garlic clove while they are hot. Use tongs to arrange toasts in one layer on a serving platter.
7. Spread the white beans over the bread, and, using a pot holder, scrape the entire contents of the tomato and onion roasting over the white beans. Be sure to use all of the juices.
8. Sprinkle onions with basil leaves. Serve.
Community content is available under
CC-BY-SA
unless otherwise noted.