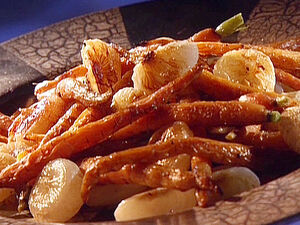 Prep Time: 15 minutes
Cook Time: 30 minutes
Yields: 4-6 servings
Description
[
]
Ingredients
[
]
1 lb. cipollini onions, ends trimmed and peeled, halve larger onions
2 lb. baby carrots
2 tbsp. canola oil
1 tbsp. butter, melted
1/4 cup white wine
1/4 cup chicken stock
Salt and coarsely ground black pepper
2 tbsp. chopped fresh Italian parsley leaves
Directions
[
]
1. Preheat oven to 400 degrees F.
2. On a cookie sheet, toss onions and carrots with oil, butter, wine, and stock. Season with salt and pepper.
3. Roast vegetables for 25-30 minutes, or until they are golden and caramelized.
4. Remove from cookie sheet and toss in a shallow serving bowl. Garnish with parsley.