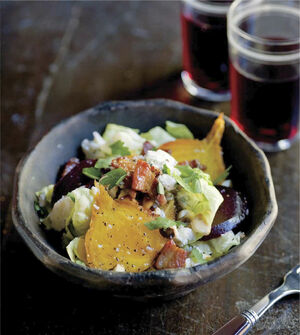 Prep Time: 30 minutes
Cook Time: Little over an 1 hour
Yields: serves 4 - 6
Description
Edit
This recipe is from Good Food to Share by Sara Kate Gillingham-Ryan. Sara says: I love hazelnuts for their sweetness and Roquefort cheese for its earthy tang. But don't let my touting this classic combination prevent you from playing around with other possibilities to pair with the beets, such as pine nuts and crumbled ricotta salata or pistachios with shaved pecorino.
Ingredients
Edit
3 medium beets, a mixture of red and golden, about 1 lb
1/4 cup hazelnuts
2 oz pancetta, cubed
Sea salt and freshly ground pepper
Large Bibb, butter, romaine lettuce leaves
1/2 lemon
2 oz Roquefort cheese, crumbled
1 tablespoon chopped fresh flat-leaf parsley
Directions
Edit
Preheat oven to 450 degrees fahrenheit Trim the beets removing the tops but leaving about 1 inch of the stem to prevent the beets from bleeding. Place the beets in a backing dish and tent loosely with the aluminum foil. Roast until just fork-tender. Start checking at 30 minutes; it may take up to 1 hour, depending on the size and age of the beets. While the beets are roasting, toast the hazelnuts and fry the pancetta. To toast the nuts, place in a small, dry frying pan over medium-low heat and cook, stirring constantly, until the nuts are fragrant and you can see they are just beginning to brown where the skins have flaked off, about 10 minutes. Remove from the heat and and immediately pour the nuts onto a clean dish towel; they can burn quickly. Gather up the corners of the towel and run the nuts together until most of the skins come off. (Don't worry about the bits that stick.) Chop the nuts coarsely and set aside. Place the pancetta in a large dry frying pan over medium heat and saute until crispy, about 15 minutes. Using a slotted spoon, transfer to paper towels to drain. Reserve the fat in a pan. When the beets are fork-tender, remove them from the oven and let cool. When cool enough to handle, peel the beets by rubbing off the skins. To avoid staining your hands use a paper towel. Cute the beets into slices or bite-size cubes, add the rendered fat in the reserved pan and toss to coat. Season with sale and pepper. To serve, arrange the lettuce leaves on a platter or on individual plates. Mound the beets on the lettuce leaves and squeeze the lemon over. Scatter the Roquefort, hazelnuts, and parsley over the top and serve right away.
Community content is available under
CC-BY-SA
unless otherwise noted.