Serving Size: 1 Tbsp.
Total Servings: 20 (1 1/4 cups)

Descriptions
[
]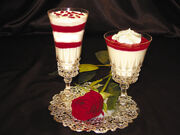 Make a delicious and health-conscience raspberry sauce in minutes! Blend raspberries, stevia, and lemon juice together to make a tasty and aromatic dressing fit for drizzling. This sugar-free raspberry relish makes an excellent accessory to the White Chocolate Mousse dish from Sensational Stevia Desserts . Remember, you can always adjust the amount of stevia to suit your own needs.
Ingredients
[
]
• 1 1/2 cups fresh or frozen unsweetened raspberries, defrosted
• 1/8 tsp. stevia extract* (see the book Sensational Stevia Desserts for brand variances)
• 1 tsp. lemon juice
Directions
Thaw frozen berries for about 30 minutes. Puree or blend berries with stevia and lemon juice in food processor or blender. Add more sweetness based on your taste preference. Pour into container with lid and refrigerate until ready to serve.
*This stevia amount listed is the minimum to use in the recipe. Since your sweetness preference and brand used may vary, you may want to add more.

Nutrition Facts/Serving
Calories: 3
Carbohydrates: less than 1g
    Total Sugars: less than 1g
    Fiber: less than 1g
Fat: 0g
Cholesterol: 0mg
Sodium: 0mg
Protein: 0g

Copyright ©2005 Sensational Stevia Desserts by Lisa Jobs
This Sensational Stevia Desserts recipe and excerpt may not be reproduced or copied without the expressed written permission from Healthy Lifestyle Publishing and the author Lisa Jobs.