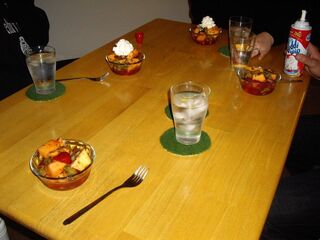 Serves:
4 - 6
Preparation Time: Varies
Cook Time: n. a.
Description
Simple, refreshing and tasty! This fruit salad has a short ingredient list and if you can buy containers of pre-chunked melon at your local grocery store, your prep time is maybe 5 - 10 minutes, so if you need a quick dessert on the table, give this a try. If strawberries are out of season, you can use a bag of pre-sliced frozen strawberries to save money. The dressing is really the star of the show...sweet and minty, it will cleanse your palate and leave you satisfied. This is a great dessert to serve after a rich, heavy meal or after a barbecue dinner. If you want to indulge a little, dollop sweetened whipped cream on top or use Reddi-Whip...less desirably, you could also use Cool Whip.
Ingredients
2 cups cantaloupe chunks (3/4" chunks)
3 cups quartered strawberries (about 16 oz.)
2 1/2 cups kiwi, cut in 3/4" chunks (around 5 kiwis)
DRESSING:
3 tbsp. honey
3 tbsp. fresh lime juice
1 tsp. lime zest
3 tbsp. finely chopped mint leaves
Directions
Place all of the fruit in a large bowl. In a small bowl, whisk the honey, lime juice, lime zest and the mint leaves. Right before serving, pour the dressing over the fruit and toss gently to combine.
You can make the dressing ahead of time - pour it into a shaker jar with a lid and refrigerate until you need it. Shake well to mix everything back up when you are ready to serve.
Community content is available under
CC-BY-SA
unless otherwise noted.