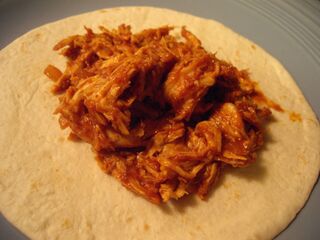 Serves:
8
Preparation Time: 10 minutes
Cook Time: 30 - 40 minutes
Description
Edit
"Pulled" meats usually implies that it's slow-cooked using a crockpot or cooked for hours in a low oven. This recipe is quick, delicious, healthy, and requires only a grill and a stovetop, or the oven and the stovetop. A thick, flavorful sauce is whipped up in minutes that has a sweetness and depth of flavor you can't find in most commercial barbecue sauces. The chicken is coated with a spicy dry rub and grilled or baked in the oven. The end result is moist, flavorful chicken that's highly seasoned and delicious. Serve this on sandwich rolls, salad greens, baked potatoes, or flour tortillas, as shown here.
Ingredients
Edit
2 tbsp. brown sugar
1 tsp. paprika
1 tsp. chili powder
3/4 tsp. cumin
1/2 tsp. ground chipotle chili powder
1/2 tsp. kosher salt
1/4 tsp. ground ginger
2 lb. boneless, skinless chicken thighs (I used around 1 1/2 lb. boneless, skinless chicken breasts)
2 tsp. canola oil
1/2 cup finely chopped onion
2 tbsp. brown sugar
1 tsp. chili powder
1/2 tsp. garlic powder
1/2 tsp. dry mustard
1/4 tsp. ground allspice
1/8 tsp. cayenne pepper
1 cup ketchup
2 tbsp. cider vinegar
1 tbsp. molasses
Sandwich rolls
Hamburger pickle slice
Directions
Edit
Prepare a grill, or preheat an oven to 350 degrees.
To prepare the chicken, combine the first 7 ingredients in a small bowl. Rub the spice mix evenly over the chicken. Place the chicken on a grill rack sprayed with cooking spray; cover and grill 20 minutes or until a thermometer reaches 180 degrees. Turn the chicken occasionally. Alternately, if you are using the oven, place the chicken on a rack coated with cooking spray, then set the rack over a baking sheet. Bake for 25 - 30 minutes, depending on thickness. When done, shred the chicken using 2 forks.
To make the sauce, heat the canola oil in a medium saucepan over medium heat. Add the onion and sauté it for 5 minutes, or until translucent and tender. Stir in 2 tbsp. brown sugar and the next 5 ingredients (through the cayenne). Cook for 30 seconds, stirring constantly, or else the spices may burn. Add the ketchup, vinegar and molasses. Stir to blend well, then bring to a boil. Reduce to a simmer and cook for 10 minutes, or until thickened. Stir occasionally to make sure the sauce doesn't burn into the bottom of the pan. Add the shredded chicken to the pan; mix well to coat all the chicken. Cook for about 2 minutes or until heated through.
Place about 1/3 cup of the chicken on the bottom halves of rolls. Top with pickle slices and the top half of the rolls. Alternately, you can serve this over a bed of salad greens, over baked potatoes, or in tortilla shells for a convenient, portable snack.
Community content is available under
CC-BY-SA
unless otherwise noted.