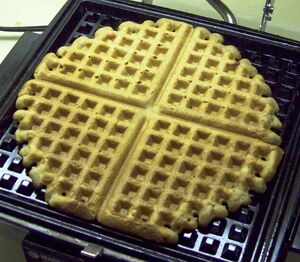 Prep Time: 4 minutes
Cook Time: 4 minutes
Yields: one complete diet plan meal
Description
Edit
Potato pancake batter meals are great the end of the season when you are running out of supplies at the cabin
just before going home. Such a meal has saved me many times from gnawing hunger before we got everything packed
and found the first fast food joint on the way back to civilization. Note this is a complete meal so only eat
half if you add toppings and share the rest with your other half.
Ingredients
Edit
613.71 cal, 17.51% fat, 70.11% carb, 12.37% protein Edit
18 grams peanut butter
31 grams oatmeal
92grams plain potato (dry flakes)
300 grams water
Utensils
Edit
personal size electric blender
gram scale
spoon
Directions
Edit
Weight potato flakes and oatmeal and use blender to mill into a powder.
Blend in a mixing or serving bowl with peanut butter and water until the consistency of a batter that can be spooned (thick) or poured (thin) onto a waffle iron, flat grill top or a frying pan.
Fry just as you would a standard waffle or pancake.
You can also use more water with this recipe and some artificial sweetener or no calorie flavoring like onion powder to make this into a no cook smoothie meal.
Enjoy!
Community content is available under
CC-BY-SA
unless otherwise noted.