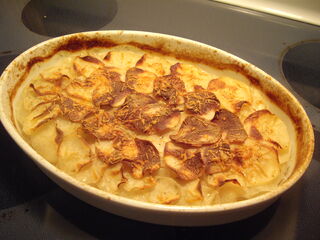 Serves:
4 - 6
Preparation Time: 25 minutes
Cook Time: 1 1/4 - 1 1/2 hours
Description
Edit
Sometimes it is difficult to find a good vegetarian or vegan dish that actually tastes good. This recipe is versatile, forgiving and most of all, very tasty. The cooking time is more than worth it, as the rich flavors of onion, garlic and Parmesan cheese come through and with the top layer of potatoes, the crispy bits have the subtle notes of nutmeg in them. To make this a heartier meal, or if you are serving non-vegetarians, cube up two ham steaks and layer with the potatoes. If making for vegans, leave out the Parmesan cheese.
Ingredients
Edit
Note: Parmesan is never vegetarian, it always includes calf's rennet which is a meat product. If you're a strict vegetarian or if you're cooking for a strict vegetarian you need to substitute a different type of cheese of look for a different recipe. See Cheeses that aren't vegetarian for more.
1 garlic clove
5 large baking potatoes, peeled
1 medium onion
2 ham steaks, cubed (optional)
3 tbsp. freshly grated Parmesan cheese (optional) (For the vegetarian version other, vegetarian cheeses probably also work, I haven't tried it.)
2 1/2 cups vegetable or chicken stock
Pinch of grated nutmeg
Kosher salt and freshly ground black pepper
Directions
Edit
Preheat the oven to 400 degrees. Halve the garlic clove and rub the cut surface over the base and sides of a large shallow gratin dish.
Slice the potatoes and onion thinly using a mandoline. Arrange 1/3 of them in the dish, starting with the potatoes as the base layer. Add some of the ham cubes, if using. Sprinkle evenly with some of the Parmesan cheese, if using. Season with salt and pepper. Pour on some of the stock to prevent the potatoes from discoloring. Continue layering the potatoes and onions as before, then add the remaining stock. Sprinkle the top with the grated nutmeg.
Bake for 1 1/4 - 1 1/2 hours, or until the potatoes are tender and the tops are well-browned. Do not be put off by extra liquid in the gratin dish - this is normal and tastes wonderful when sopped up with a good crusty bread.
Community content is available under
CC-BY-SA
unless otherwise noted.