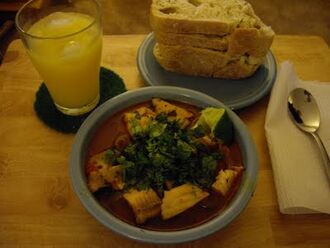 Serves:
4
Preparation Time: 15 minutes
Cook Time: 15 - 17 minutes
Description
Edit
Portuguese cuisine is not readily found across the United States, but by using a few simple ingredients, you can recreate the flavors of a culture that relies heavily on the sea for its food. This is a forgiving recipe and can be tweaked to reflect your tastes. If you like spicy food, consider passing crushed red pepper flakes at the table. Serve with a good crusty artisan bread.
Ingredients
Edit
2 tbsp. extra virgin olive oil
2 bay leaves
2 tsp. paprika (smoked or sweet)
1 small onion, thinly sliced
1 small green bell pepper, thinly sliced
1 (15 oz.) can diced tomatoes
4 cloves of garlic, finely chopped
1/4 cup chopped fresh cilantro
1½ lb. skinless striped bass (or other firm white-fleshed fish), cut in 2" chunks
½ lb. shrimp, peeled and deveined
2 cups liquid**
Kosher salt and freshly ground black pepper
Crusty bread, to serve
Crushed red pepper flakes, to serve
Lime wedges, to serve
Directions
Edit
Heat the olive oil in a medium saucepan over medium-high heat. Add the bay leaves and paprika and cook, stirring, for 30 seconds. Add the onion, bell pepper, tomatoes, garlic and 2 tbsp. of the cilantro; season with salt and pepper. Cover and cook until the vegetables are tender, about 10 minutes. Taste for seasoning and add more salt and pepper, if needed.
Add 2 cups of the liquid of your choice and reduce the heat to medium-low. Season the fish with salt and pepper, then nestle the pieces among the vegetables in the pan. Cover and simmer until the fish is just cooked through, 5 - 7 minutes. Add the shrimp during the last few minutes of cooking, as they take very little time to cook and will continue to cook in the broth once it is off the heat. Make sure to remove the bay leaves before serving.
Divide the stew among bowls. Drizzle with a good finishing olive oil and sprinkle with the remaining 2 tbsp. of cilantro. Serve immediately with the bread. Pass crushed red pepper flakes and lime wedges at the table.
NOTE: Fish, shrimp, chicken and vegetable stocks, dry white wine or water can be used as cooking liquids. A combination can also be used. Preferably, use fish stock in this recipe to better complement the dish. You can find canned fish stock in the store but if you want to use any shrimp stock, you will have to make your own.
If you find that there isn't enough broth to your liking, consider doubling or tripling the broth measurements. The original recipe called for only a cup of liquid, which made nowhere near a suitable amount for four servings.
Community content is available under
CC-BY-SA
unless otherwise noted.