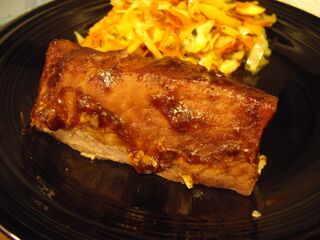 Serves:
4
Preparation Time: 10 minutes
Cook Time: 2 hours, 15 minutes - 2 hours, 30 minutes
Description
Edit
Pork can be a very healthy type of meat, as long as the correct cuts are purchased. This recipe features lean 'country-style' boneless pork ribs cooked low and slow to yield a fork-tender, succulent result. Adding sliced onion and fresh minced garlic are optional, but they do add a great deal of extra flavor. You can use your favorite barbecue sauce when it comes time to baste them. Keep in mind that these directions are ONLY for boneless ribs and not for bone-in racks of ribs. Serve with your favorite sides - sauerkraut is a great pairing!
Ingredients
Edit
1 - 2 lb. boneless country style pork ribs (that usually equates to around 4 big cuts)
Sliced onions (optional)
Minced fresh garlic (optional)
Barbecue sauce
Directions
Edit
Preheat the oven to 350 degrees.
In a roasting pan or a large, Dutch oven with a tight-fitting lid, put in the ribs. If you don't have a lid for your roasting pan, tightly cover the pan with aluminum foil. Layer with sliced onions and sprinkle with garlic over the top, if using.
Put the lid on and cook the ribs for 1 hour. Turn down the temperature to 250 degrees and cook for another hour.
Take the ribs out, remove the lid and drain any accumulated liquid. Brush on your favorite barbecue sauce and put the pan back in the oven and cook for another 15 - 30 minutes, uncovered.
When done cooking, put the lid back on the pan for 10 - 15 minutes to let the juices get back into the meat. Serve hot with sides of your choice. Vegetarians may feel like experimenting with Quorn Meat Free Pork Steaks or other meat substitute. You won't have to drain off juices and meat sutstitute may need shorter cooking. I haven't tried this.
Community content is available under
CC-BY-SA
unless otherwise noted.