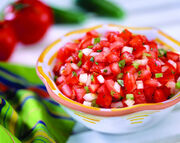 About Pico de gallo
Edit
In Mexican cuisine, Pico de gallo (Spanish for "rooster's beak") is a fresh uncooked condiment made from chopped tomato, onion, and sometimes chiles (typically jalapeños or serranos). Other ingredients may also be added, such as lemon or lime juice, fresh cilantro (leaf of coriander), cucumber, radish or other fresh firm pulpy fruit such as mango.
Pico de gallo can be used in much the same way as Mexican salsas or Indian chutneys, but since it contains less liquid, it can also be used as a main ingredient in dishes such as tacos and fajitas.
In some regions of Mexico, a fruit salad (watermelon, orange, jícama, cucumber and sometimes mellon and papaya) tossed in lime juice and hot sauce or chamoy and sprinkled with a salty Chile powder is also known as pico de gallo; it is a popular snack and it's usually sold outside schools, while the tomato-based condiment is better known as salsa picada, which means minced or chopped sauce, salsa bandera or salsa mexicana, because the colors red(tomato), white (onion), and green (chile) are the colors of the Mexican flag.
Community content is available under
CC-BY-SA
unless otherwise noted.