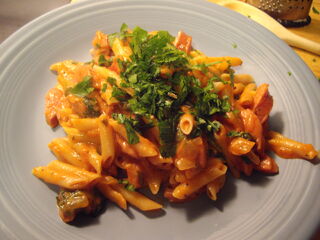 Serves: 4
Preparation Time: 15 minutes
Cook Time: 15 - 20 minutes
Description
Traditional Bolognese sauce is rich, chunky and meaty. This recipe lightens it up a little by using turkey sausage, but to make up for the reduction of flavor, lightly sweet and creamy mascarpone cheese and the sharp, salty tang of Parmesan cheese is added. For a little color, baby arugula or spinach is added. This easy to make sauce doesn't take much time to make and you can easily have dinner on the table in about half an hour. Penne noodles work best with this sauce, but any noodle that has ridges or even spirals will work. Ideally, you want a noodle that is going to allow the sauce to cling well. You may want to serve a light, palate-cleansing dessert (such as freshly cut pieces of melon, or berries) after this highly flavored meal.
Ingredients
2 tbsp. extra virgin olive oil
1 small onion, diced
2 cloves garlic, peeled and smashed (or chopped)
1/2 lb. sweet or spicy Italian-style turkey sausage, casings removed
1 1/2 cups tomato-basil or marinara sauce
3 cups baby arugula or spinach leaves
1/2 cup mascarpone cheese, at room temperature
1/2 cup grated Parmesan chese
2 tbsp. chopped fresh Italian flat-leaf parsley
12 oz. penne (can use gluten-free penne)
Kosher salt
Freshly ground black pepper
Description
Bring a large pot of water to a boil and cook the noodles according to the package directions. If you time it just right, your sauce will be done at the same time your noodles are finished cooking.
To make the sauce, heat 2 tbsp. extra virgin olive oil in a large skillet over medium-high heat. Add the onions, 1 tsp. salt and 1/2 tsp. pepper. Cook, stirring frequently, until softened, about 3 minutes. Add the garlic and cook until aromatic, about 30 seconds. Add the sausage and break up the meat into 1/2" pieces. Cook until browned and cooked through, about 6 to 8 minutes. Add the marinara sauce and arugula. Bring the mixture to a boil and cook until the arugula has wilted, about 2 minutes. Add the mascarpone cheese and stir until the mixture forms a creamy sauce. Remove from the heat and stir in the Parmesan. Season with salt and pepper, if needed.
Return the noodles to their cooking pot and add the sauce. Stir well until combined and the noodles are heated through. Serve immediately with the parsley sprinkled on top of each serving.