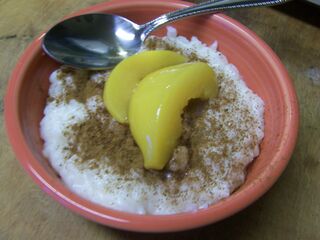 Serves:
4
Preparation Time: <5 minutes
Cook Time: 1 hour
Description
Edit
Sweet, simple and comforting - that's all this dish is. White rice is slowly cooked in milk, then topped with delicious cinnamon and finished with a few slices of peaches. Please note that you MUST make this in a double boiler - there is no substitute for it. Also, do not try to make this dairy-free; real cow's milk is needed here for its richness. It's naturally gluten-free, though!
Ingredients
Edit
4 cups milk (can use whole, 2%, 1% or skim milk)
1 cup long grain white rice
1/2 cup sugar (or 12 packets Truvia)
Pinch of kosher salt (optional)
Sliced peaches packed in 100% juice
Ground cinnamon
Ground nutmeg (optional)
Extra milk (optional)
Pure maple syrup (optional)
Directions
Edit
In the bottom pot, put in a bit of water, but not enough to touch the bottom of the upper pot.
In the upper pot, pour in the milk. Add the rice and the salt, if using. Turn the heat to high and bring the water to a boil. Let the milk heat through until you see small bubbles forming near the surface. At this point, put the lid on the pot and let it cook for an hour, stirring every 15 minutes or so to prevent the rice from sticking. When 45 minutes have gone by, add the sugar and stir well. When the rice is sufficiently thick and creamy, it is ready to eat.
Spoon the rice into warmed bowls, then top with ground cinnamon and a few sliced peaches. Eat immediately for best results.
There are other ways to eat this, if you choose. You can sprinkle a little ground nutmeg on top, or drizzle with maple syrup or add extra milk and eat it like a hot cereal. You can eat this as either a breakfast cereal or as a dinner, which is the way my family has always done it.
Community content is available under
CC-BY-SA
unless otherwise noted.