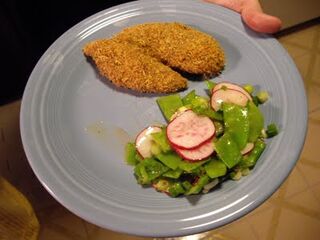 Serves:
6
Preparation Time: 15 minutes
Cook Time: 12 minutes
Description
Edit
It is a fact of life that kids are picky eaters - but with this recipe, it will put smiles on everyone's faces. A short ingredient list makes this an affordable and pleasing meal. The dipping sauce is optional, since the main flavor is balsamic vinegar, which may not be something children will like. However, feel free to substitute with marinara sauce, honey mustard sauce or even plain old ketchup. If you use bagged frozen chicken tenders, let them thaw completely before marinating.
Ingredients
Edit
1 cup buttermilk
1 1/2 lb. chicken tenders (about 18)
1 1/4 cups freshly grated Parmesan cheese
3/4 cup Italian style seasoned bread crumbs (preferably whole grain, if you can find them - Gia Russa is one very excellent brand)
Dipping Sauce (optional):
1/2 cup extra virgin olive oil
3 tbsp. balsamic vinegar
3 large cloves garlic, minced
1/2 tsp. kosher salt
Freshly ground black pepper
Directions
Edit
Preheat the oven to 450 degrees.
Place the buttermilk in a large bowl. Add the chicken tenders and stir to coat. Let stand at least 15 minutes and up to 30 minutes.
Stir the Parmesan and bread crumbs in a pie dish or on a large plate. Remove the chicken tenders from the buttermilk, making sure that any excess buttermilk is removed. Dredge the tenders in the bread crumb mixture to coat completely, pressing to adhere. Arrange the coated chicken tenders on a lightly greased rack placed on top of a baking sheet. Drizzle 2 tbsp. olive oil over the chicken tenders and bake until they are cooked through and golden brown, about 15 minutes. Turn the tenders over halfway through baking to ensure even browning and crispness.
Remove the chicken tenders to a platter and serve immediately with the dipping sauce of choice.
If you will be making the dipping sauce, mash the garlic with the salt in a medium bowl until a paste is formed. Whisk in the vinegar and the 1/2 cup olive oil. Season the vinaigrette to taste with pepper. Transfer the vinaigrette to a small serving bowl.
Community content is available under
CC-BY-SA
unless otherwise noted.