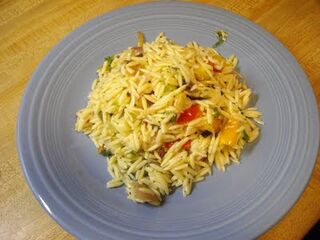 Serves: 6
Preparation Time: 20 minutes
Cook Time: 40 minutes
Description
Easy, healthful and delicious! This dish can function for a casual dinner and yet is classy enough to be served at a formal dinner party. It can be served as a side, accompanying chicken or beef, or it can be a standalone meal. It works great as part of a barbecue or potluck. Feel free to substitute different vegetables in if you don't care for the ones listed, or if someone may have an allergy. The feta cheese is optional, as this dish works beautifully with or without it - you are also cutting down on the fat and salt content by omitting the cheese.
Ingredients
1 small eggplant (or zucchini), peeled and cut into 3/4" cubes
1 red bell pepper, 1" diced
1 yellow bell pepper, 1" diced
1 red onion, peeled and 1" diced
2 garlic cloves, minced
2 - 3 tbsp. good olive oil
1 tsp. kosher salt
1/2 tsp. freshly ground black pepper
8 oz. orzo
Dressing:
1/4 - 1/3 cup freshly squeezed lemon juice (2 lemons)
1/4 - 1/3 cup good olive oil**
1/2 tsp. kosher salt (or more to taste)
1/2 tsp. freshly ground black pepper
For Assembly:
4 scallions, minced
1/4 cup pignolis, toasted (or 1/4 cup sliced or slivered almonds)
3/4 lb. good feta, 1/2" diced (optional)
15 fresh basil leaves, julienned
Directions
Preheat the oven to 425 degrees.
Toss the eggplant (or zucchini), bell peppers, onion and garlic with the olive oil, salt and pepper on a large sheet pan. Roast for 40 minutes, until browned, turning once with a spatula.
Meanwhile, cook the orzo in boiling water for 7 - 9 minutes, until tender. Drain and transfer to a large serving bowl. Add the roasted vegetables to the pasta, scraping all the liquid and seasonings from the roasting pan into the pasta bowl.
For the dressing, combine the lemon juice, olive oil, salt and pepper and pour on the pasta and vegetables. Let cool to room temperature, then add the scallions, pignolis (or almonds), feta (if using), and basil. Check the seasonings and serve at room temperature.
NOTE: Start with 1/4 cup olive oil and when it comes time to add the scallions, nuts, cheese and basil, check for dryness. If the pasta seems too dry, add more oil, enough so that there is 1/3 cup total.