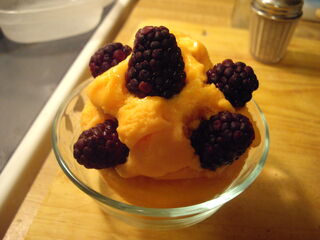 Serves:
4
Preparation Time: 5 minutes
Cook Time: none; allow at least 1 hour for freezing
Description
Edit
Okay, don't gripe. I know this isn't much of a recipe, but it's still fun, tasty, and mostly healthy. Orange sherbet is scooped into fresh orange shells, topped with blackberries, left to chill, then served for a refreshing dessert. The orange and black color scheme make this something affordable and neat to serve for a Halloween treat but it's something you can eat year round. This is not a dairy-free recipe, as sherbet is made using milk products and I can't vouch for it being gluten-free, either. Make sure to check your labeling carefully if you have dietary restrictions.
Ingredients
Edit
2 navel oranges, sliced in half
1 pint orange sherbet, slightly softened
Directions
Edit
Scoop the flesh out of the oranges or juice them, reserving the flesh (or juice) for another purpose. [1] Slice a very thin amount of the rind off the bottom of each shell so that they sit flat and won't rock around when you try to fill them with the sherbet.
Spoon the orange sherbet into the shells and press a few blackberries into it. Put the shells in the freezer and let sit for at least an hour.
Serve immediately right from the freezer.
NOTE: I (the original author who has tried th eecipe) do a lot of cooking for two, and this recipe can easily be adapted to serve just two. Use one large orange and spoon 1 cup of sherbet into each shell. Top with the blackberries, freeze and serve.
References
Edit
↑ Once you scoop the orange flesh out it starts to deterioraate and lose its vitamins. Unless the puree is eaten at once I (Proxima Centauri) suggest freeaing it to preserve its vitamins. I haven't tried this recipe.
Community content is available under
CC-BY-SA
unless otherwise noted.