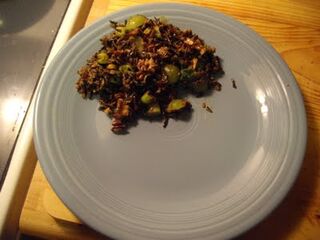 Serves:
6
Preparation Time: < 5 minutes
Cook Time: 1 hour, but may vary
Description
Edit
Here's something you don't see every day. Wild rice dishes were rather popular back in the 1970s and then they fell out of style. However, wild rice is coming back into popularity. This is an updated version of an old recipe that features the firm texture of wild rice paired with toasty pecans, fruit and scallions. Serve as a side with meats or even with a white-fleshed fish supper.
Ingredients
Edit
1 cup wild rice
1 1/4 cups fat free, reduced sodium chicken stock
2 tbsp. unsalted butter
1 cup green seedless grapes, halved
1/2 cup scallions, sliced in rounds
1 cup pecan halves, toasted and coarsely chopped**
1 tsp. grated orange zest
2 tbsp. freshly squeezed orange juice
1 tsp. freshly ground black pepper
Kosher salt
Directions
Edit
Place the rice, chicken stock, 1 1/4 cups water, 1 tbsp. of the butter and 1/2 tsp. of salt in a medium saucepan and bring to a boil over medium heat. Cover the pot and lower the heat to simmer (you may wish to pull the pan halfway off the burner) and cook for about an hour, until the rice is tender and the grains begin to split open (the grains should look split like a hot dog bun and not exploded like a piece of popcorn). Stir the rice occasionally while it's cooking, scraping the bottom of the pan to prevent the rice from sticking. Turn off the heat and let the rice steam for 5 minutes.
Stir in the remaining tablespoon of butter into the rice, then add the grapes, scallions, pecans, orange zest, orange juice and pepper. Toss well, taste for seasonings and serve hot.
NOTE: To toast the pecans, place them on a sheet pan and put them into a 350 degree oven for 8 minutes. Let them cool completely before chopping.
You can also make this a completely vegan dish by substituting the chicken stock for vegetable stock, but the flavor will be slightly different. You may also choose to use extra virgin olive oil in place of the butter, but again, the flavor may be slightly different.
Community content is available under
CC-BY-SA
unless otherwise noted.