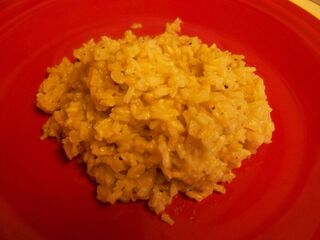 Serves:
4 - 6
Preparation Time: 5 minutes
Cook Time: 20 - 45 minutes
Description
Edit
Brown rice is a delicious, healthy whole grain that is fabulous when cooked plain, but is really made special with other additions. This recipe features brown rice cooked with onion, fresh ginger and fresh orange zest to create a bright, flavorful side dish that will pair wonderfully with any kind of meat you want to serve and that makes a great snack, too. It is naturally gluten-free and very healthy, so don't feel bad about going back for a second helping.
Ingredients
Edit
1 medium onion, diced
1 cup brown rice
1 tsp. freshly grated orange zest
1 tbsp. finely chopped or grated fresh ginger
2 cups vegetable stock
Kosher salt
Freshly ground black pepper
Directions
Edit
In a medium skillet, sweat the onions over medium heat in a small amount of oil until they turn translucent.
Add the rice and sauté for 1 minute.
Add the orange zest and ginger and cook for 1 more minute. Add the stock and bring it to a boil. Cover the pan with a lid, reduce the heat to low and cook the rice until it is tender, which could take any where from 20 - 45 minutes, depending on the manufacturer's directions; most brown rice brands require between 40 - 45 minutes to cook fully.
Add salt and freshly ground black pepper to taste and serve hot.
Community content is available under
CC-BY-SA
unless otherwise noted.