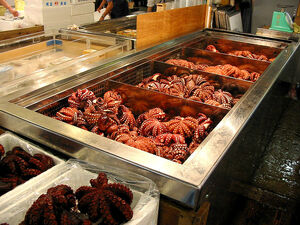 About octopus
Edit
People eat octopus in many cultures. The arms and sometimes other body parts are prepared in various ways, often varying by species.
Octopus is a common ingredient in Japanese cuisine, including sushi, takoyaki, and Akashiyaki. Some small species are sometimes eaten alive as a novelty food. Similarly, a live octopus may be sliced up and the legs eaten while still squirming, which continues for some minutes.
Octopus is eaten regularly in Hawaii, since many popular dishes are Asian in origin. Locally known by their Hawaiian or Japanese names ("he'e" and "tako" respectively), octopus is also a popular fish bait.
Octopus is a common food in Mediterranean cuisine and Portuguese cuisine. In Galicia, polbo á feira (market fair style octopus) is a local delicacy. Restaurants which specialize or serve this dish are known as pulperías. On the Tunisian island of Djerba, local people catch octopuses by taking advantage of the animals' habit of hiding in safe places during the night. In the evening they put grey ceramic pots on the sea bed. The morning of the following day they check them for octopuses that sheltered there.
According to the USDA Nutrient Database (2007), cooked octopus contains approximately 139 calories per three ounce portion, and is a source of vitamin B3, B12, potassium, phosphorus, and selenium.
Care must be taken to boil the octopus properly, to rid it of slime, smell, and residual ink.
Community content is available under
CC-BY-SA
unless otherwise noted.