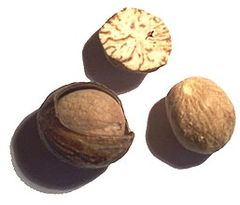 About nutmeg
Edit
Nutmeg is the actual seed of the nutmeg tree (Myristica), roughly egg-shaped and about 20 to 30 mm (0.8 to 1 in) long and 15 to 18 mm (0.6 to 0.7 in) wide, and weighing between 5 and 10 g (0.2 and 0.4 oz) dried, while mace is the dried "lacy" reddish covering or aril of the seed. The first harvest of nutmeg trees takes place 7–9 years after planting, and the trees reach full production after 20 years. Nutmeg is usually used in powdered form. This is the only tropical fruit that is the source of two different spices: Nutmeg and mace. The two spices have similar taste qualities, nutmeg having a slightly sweeter and mace a more delicate flavour. Mace is often preferred in light dishes for the bright orange, saffron-like hue it imparts. Nutmeg is always used in ground or grated form, and is best grated fresh.
Community content is available under
CC-BY-SA
unless otherwise noted.