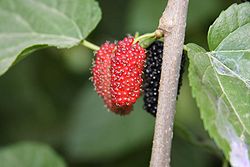 Morus is a genus of flowering plants in the family Moraceae. The 10–16 species of deciduous trees it contains are commonly known as Mulberries. They are native to warm temperate and subtropical regions of Asia, Africa, Europe, and the Americas, with the majority of the species native to Asia.
The ripe fruit is edible and is widely used in pies, tarts, wines, cordials and tea. The fruit of the black mulberry, native to southwest Asia, and the red mulberry, native to eastern North America, have the strongest flavor. The fruit of the white mulberry, an east Asian species which is extensively naturalized in urban regions of eastern North America, has a different flavor, sometimes characterized as insipid.[2] The mature plant contains significant amounts of resveratrol, particularly in stem bark.[3] The fruit and leaves are sold in various forms as nutritional supplements. Unripe fruit and green parts of the plant have a white sap that is intoxicating and mildly hallucinogenic.[4]
Black, red, and white mulberry are widespread in Northern India, Azerbaijan, Jordan, Syria, Lebanon, Georgia, Armenia, Pakistan, Iran, Turkey, and Afghanistan,
Mulberries are swift-growing when young, but soon become slow-growing and rarely exceed 10–15 m (33–49 ft) tall. The leaves are alternately arranged, simple, often lobed, more often lobed on juvenile shoots than on mature trees, and serrated on the margin.
The fruit is a multiple fruit, 2–3 cm (0.79–1.2 in) long. The fruits when immature are white or green to pale yellow with pink edges. In most species the fruits are red when they are ripening, turning dark purple to black and have a sweet flavor. The fruits of the white-fruited cultivar of the white mulberry are green when young and white when ripe; the fruit in this cultivar is also sweet but has a very mild flavor compared with the darker variety.
Community content is available under
CC-BY-SA
unless otherwise noted.