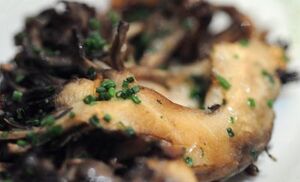 Prep Time: 20 minutes
Cook Time: 50 minutes
Yields: 10-12 servings (depending on how many jars you make)
Description
[
]
Ingredients
[
]
3 to 4 pounds wild mushrooms, such as porcini, chanterelles and hen of the woods (you may substitute 1 1/2 pounds portobellos, 2 pounds shiitake and 1 pound crimini)
3 cups white wine vinegar
1 bottle dry white wine
4 fresh bay leaves
1 stem rosemary
1 tablespoon hot chili flakes
10 black peppercorns
1/4 cup kosher salt
2 liters extra-virgin olive oil
Equipment:
3 quart jars with lids, cleaned and sterilized
Directions
[
]
1. Clean the mushrooms. Remove any dirt with a soft brush or cloth. Note: do not wash with water.
2. Halve the hen of the woods and set aside.
3. Pour the vinegar and the wine into a 8 quart saucepan. Add bay leaves, rosemary, chili flakes, peppercorns, and salt. Bring mixture to a boil.
4. Add all of the mushrooms and once mixture has returned to a boil, cook for 20 minutes.
5. Drain the mushrooms in a colander and pour them onto a stack of kitchen towels. Allow to drain for 30 minutes. Remove all of the fragrant (rosemary, bay leaves, etc.).
6. Divide the mushrooms among 3 jars, making sure to place 3 or 4 peppercorns and a pinch of chili flakes in each jar. Fill each of the jars with oil and refrigerate overnight. (The mushrooms will absorb oil, so it is necessary to add more oil after 3 or 4 days).
7. Seal the jars and allow mushrooms to marinate a week before serving.
8. *Note: To serve, bring jar to room temperature and place some of the mushrooms into a bowl with a little oil. Serve with garlic bread.