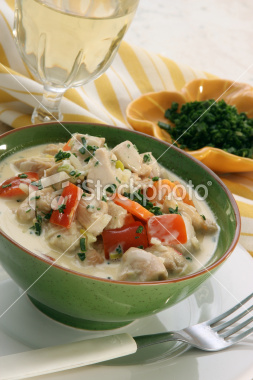 Prep Time: 45 minutes
Cook Time: 40 minutes
Yields: 6 servings
Description
Edit
If you are unsure whether this Low-Fat Blanquette Of Chicken recipe is suitable for your personal diabetic diet, please consult your doctor or a qualified nutritionalist.
Ingredients
Edit
12 chicken thighs 1 large onion 3 whole cloves 1 large carrot, cubed 1 bouquet garni 4 cups fat free chicken broth 1/2 lb. mushrooms 1 tbsp oil Salt and pepper 1/2 lb. baby onions, peeled 1/2 cup evaporated skim milk 1 tbsp cornstarch Lemon juice 1/2 tsp. lemon zest Parsley, chopped
Directions
Edit
Remove and discard skin and fat from the chicken thighs; place in a frying pan. Add onion stuck with cloves, carrot and bouquet garni. Cover with chicken broth, season and slowly bring to a boil. Turn down to a simmer and cook until tender, lid askew, for 30 minutes. Meanwhile, saute the mushrooms in the oil, season with salt and pepper, cover and cook gently until mushrooms give up all their juices. Remove the mushrooms to a plate leaving the juices in the skillet. Add the baby onions to the skillet and cook, covered, until tender. If needed, add 1 or 2 tb of water or broth while cooking. Mix together onions and mushrooms, set aside. Remove the cooked chicken thighs to a plate, strain the cooking broth into a bowl. Return the chicken thighs to the pan and spread the onions and mushrooms over them. Bring broth to a simmer in a saucepan. Mix the evaporated milk with the cornstarch and slowly pour, stirring, into the chicken broth. Stir until thickened, add the lemon juice and rind, correct the seasoning and pour over the stew. Heat well and serve sprinkled with parsley.
Community content is available under
CC-BY-SA
unless otherwise noted.